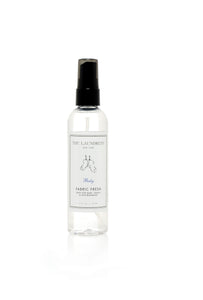 Ammorbidire il bucato della famiglia con questo ammorbidente di ordine vegetale sarà un piacere. Questa speciale formula riduce i tempi di asciugatura, riduce le pieghe ed elimina l'adesione statica.
Delicatissimo, perfetto sulle pelli più delicate è un complemento perfetto unito al detersivo per bucato.
Flacone concentrato fino a 16 lavaggi.
Ingredients: Plant-derived anionic and nonionic surfactants, stain-fighting and cleaning enzymes (protease, amylase, cellulase, lipase), mineral-derived cleaning enhancers (sodium gluconate, and calcium chloride), essential oils, and fragrance.

Nontoxic, biodegradable, and allergen-free.

Free of tallow, petroleum, phosphate, phthalates, artificial colors and animal by-products.

Color and texture may vary with natural ingredients.
Free of petroleum, phosphate, phthalates, and artificial color.

Cruelty-free. No animal by-products.

All The Laundress products are tested on Gwen & Lindsey.

CAUTION: Keep out of reach of children. Avoid contact with eyes. Do not ingest. If swallowed, seek medical advice. Not recommended for use with towels as fabric softeners reduce absorbency.

Made in the U.S.A.